EVENTS

COMMUNITY EVENTS
Meadowmont periodically holds fun, FREE, family-friendly events for residents and the community. We have a wonderful Meadowmont Music Series planned for this year! Scroll down to see the full calendar of 2017 events. As always, we would appreciate volunteers to help us with these events. Contact: manager@meadowmont.net or call (919) 240-4682. In case of rain, please call (919) 636-0598 or check this page for cancellation information.
Click here to see Event Photo Galleries from all of our events!
Friday, August 4, 2017
The Holland Brothers
6:00 pm – Sunset
Meadowmont Village
300 Meadowmont Village Circle, Chapel Hill, NC 27517
(In case of rain, please call (919) 636-0598 or check this page for cancellation information.)
Come out and enjoy a FREE concert by The Holland Brothers as part of our Meadowmont Music Series! These twin brothers harmonize beautifully as they perform acoustic, old-time country music covers and originals. This family-friendly event is open to the community, so please bring your family and friends, a chair and a blanket, and a picnic — or enjoy dinner from one of the many fine restaurants in Meadowmont Village before the show. FREE parking on site!
More about The Holland Brothers: When North Carolina twin brothers Mark and Michael Holland sing harmony, they get your attention. They then keep it with a fine display of blues harp, acoustic guitar, mandolin, melodica and thumbpicking 12-string guitar that form the basis of a memorable and entertaining show. Similar to the Piedmont songsters of old, The Holland Bros from North Carolina, along with stand-up bassist Billie Feather, play a variety of Americana, old-time country, and country blues that includes choice covers and inspired original songwriting. In addition, Mark's blues harp playing has been internationally recognized and he is endorsed by Seydel, the worlds oldest manufacturer of harmonicas, based in Germany. Drawing inspiration from Charlie Poole to Charlie Patton, the Holland Bros continue to garner praise and gain new fans daily.
Full Music Series Schedule: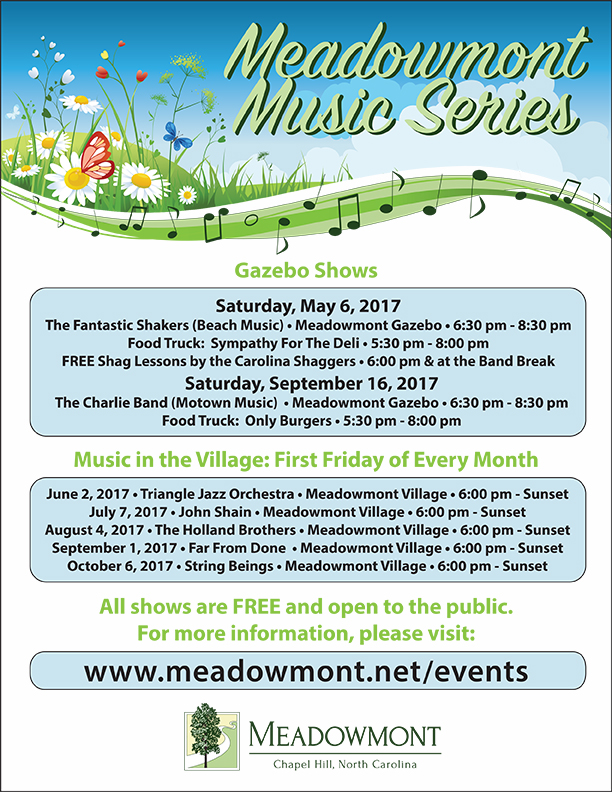 SaveSave
SaveSave