EVENTS

COMMUNITY EVENTS
Meadowmont periodically holds fun, FREE, family-friendly events for residents and the community. We have a wonderful Meadowmont Music Series planned for this year! Scroll down to see the full calendar of 2017 events. As always, we would appreciate volunteers to help us with these events. Contact: manager@meadowmont.net or call (919) 240-4682. In case of rain, please call (919) 636-0598 or check this page for cancellation information.
Click here to see Event Photo Galleries from all of our events!
Friday, July 7, 2017
Jon Shain
6:00 pm – Sunset
Meadowmont Village
300 Meadowmont Village Circle, Chapel Hill, NC 27517
(In case of rain, please call (919) 636-0598 or check this page for cancellation information.)
Come out and enjoy a FREE concert by this wonderful local musician as part of our Meadowmont Music Series! Jon Shain is a veteran singer-songwriter who has been turning heads for years with his words, his fiery acoustic guitar work, and his evolved musical style – combining improvised piedmont blues with bluegrass, swing, and ragtime. This family-friendly show will end your holiday week with even more fun! This event is open to the community, so please bring your family and friends, a chair and a blanket, and a picnic — or enjoy dinner from one of the many fine restaurants in Meadowmont Village before the show. FREE parking on site!
More about Jon Shain: Jon Shain founded the Chapel Hill, NC folk-rock group, Flyin' Mice and their spin-off group, WAKE, and toured with them from 1989-1998 . The band performed with acts such as David Grisman, Tony Rice Unit, Hot Tuna, and the Dixie Dregs, released four CDs, and played clubs, schools, and festivals up and down the East Coast, building a legion of fans. The last few years have seen Shain headlining listening rooms on the East Coast, in the Midwest, and in Europe, as well as opening shows for John Hiatt, Keb' Mo', Little Feat, and others. Shain's newest disc, a duet album with Joe Newberry, Crow the Dawn, was released in January, 2016.
Full Music Series Schedule: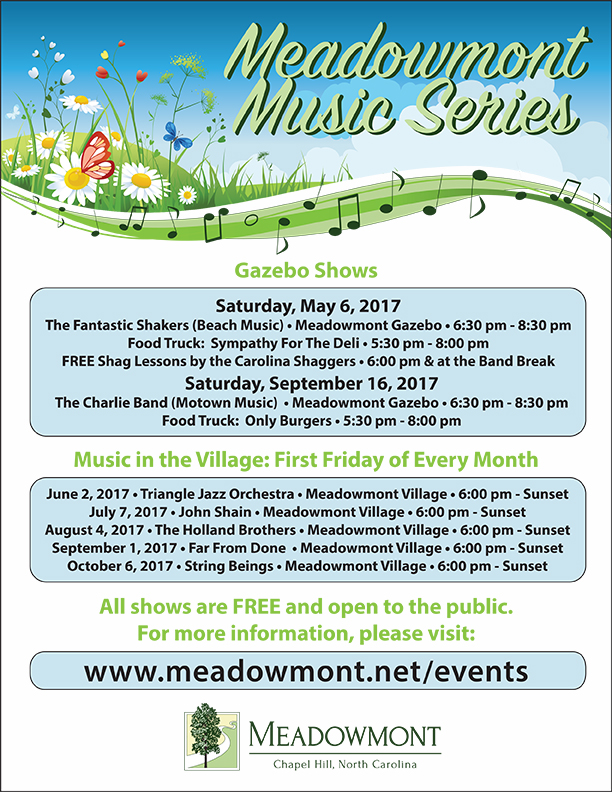 SaveSave